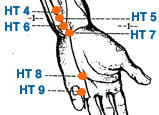 The acupuncture point "HT 4" , 靈道, is represented by "Ling Dao" in pinyin and "Spirit Pathway" in english and may be found:
1.5 cun above the wrist crease on the radial side of the flexor carpi ulnaris tendon, on the HT 3 - HT 7 line.

Of many possible clinical applications, it may be considered to influence the following issues/symptoms:

Sudden loss of voice.
Restless Zang Disorder (fluctuating emotions, mania, depression, anxiety, insomnia), various emotional disturbances.
Chest pain that perhaps worsens with emotional distress.
Local point for pain in the elbow and/or arm.

Ht 4 has the following theoretical associations which serve as important guideposts in designing an effective treatment protocol:

Explore ht 4 functional grouping theory - Five Shu, or read all point categories and related theory.
A single acupuncture point is not commonly thought of as an empirical way to influence a TCM diagnostic pattern. HT4, however, is a strong candidate to be incorporated into an acupuncture protocol for patients who exhibit: Liver Qi Stagnation
HT 4 may potentially be used, in coordination with a well designed acupuncture treatment protocol, to influence the following conditions: Anxiety, Arm Pain, Chest Pain, Depression, Insomnia, Manic Depression, Stuttering and/or Vocal Problems