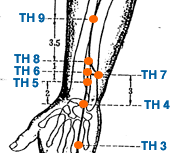 The acupuncture point "TH 5" , 外關, is represented by "Waiguan" in pinyin and "Outer Pass" in english and may be found:
2 cun above TH 4 between the radius and the ulna on the TH 4 - TH 10 line ** Japanese Discrepancy **

Of many possible clinical applications, it may be considered to influence the following issues/symptoms:

Beginning exterior conditions, tonify for wind-cold, cold-damp & sedate for wind-heat, fever.
Headache from exterior wind as well as migraines and headaches in any area especially with stiffness or pain in the posterior and lateral aspects of the neck.
Upper limb disorders including the elbow, forearm, wrist and hand.
Shaoyang stage diseases - alternating fever and chills, etc.

Th 5 has the following theoretical associations which serve as important guideposts in designing an effective treatment protocol:

Explore th 5 functional groupings theory - Extraordinary Master-Coupled and/or YuanLuo, or read all point categories and related theory.