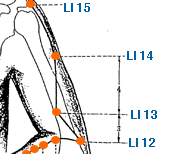 The acupuncture point "LI 13" , 手五里, is represented by "Shou Wu Li" in pinyin and "Arm Five Li" in english and may be found:
3 cun above LI 11 on the LI 15 to LI 11 line.

Of many possible clinical applications, it may be considered to influence the following issues/symptoms:

Local point for pain in the elbow and upper arm.
Difficulty breathing, cough, vomiting of blood.
Scrofula  
LI 13 has some precautions to be considered (see our precautions list).
Avoid Artery (AA)

LI 13 may potentially be used, in coordination with a well designed acupuncture treatment protocol, to influence the following conditions: Arm Pain, Cough, Tennis Elbow and/or Wheezing (Dyspnea)