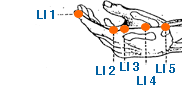 The acupuncture point "LI 2" , 二間, is represented by "Er Jian" in pinyin and "Second Space" in english and may be found:
On the radial side of the index finger distal to the 2nd metacarpophalangeal joint in a depression at the border of the red and white skin.

Of many possible clinical applications, it may be considered to influence the following issues/symptoms:

Shown to increase saliva production and to effect the areas of the brain involved in saliva production. Useful for dry mouth (xerostomia).
Sedation Point and Ying Spring Point, treats excess and clears heat from opposite end of the channel, for toothache, eye redness and pain, gum inflammation, sore throat.  

Li 2 has the following theoretical associations which serve as important guideposts in designing an effective treatment protocol:

LI 2 may potentially be used, in coordination with a well designed acupuncture treatment protocol, to influence the following conditions: Eye Problems, Sore Throat and/or Toothache