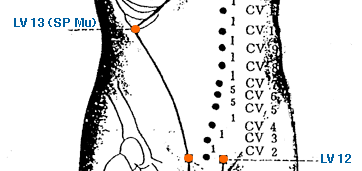 The acupuncture point "LV 13" , 章門, is represented by "Zhang Men" in pinyin and "Camphorwood Gate" in english and may be found:
On the lateral side of the abdomen below the free end of the 11th rib.

Of many possible clinical applications, it may be considered to influence the following issues/symptoms:

Assist with SP Deficient signs esp. from the LV invading the SP - pain and distention of the abdomen, vomiting, constipation, diarrhea (or alternating), bloating, undigested food in the bowels.
Hui Meeting Point of the Zang - tonify all Zang organs.

Lv 13 has the following theoretical associations which serve as important guideposts in designing an effective treatment protocol:

Explore lv 13 functional groupings theory - MuShu, Hui Meeting and/or Shokanten - Nine Continent, or read all point categories and related theory.