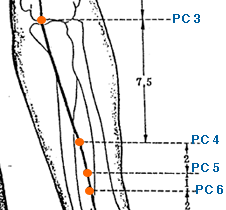 The acupuncture point "PC 5" , 間使, is represented by "Jian Shi" in pinyin and "Intermediary Courier" in english and may be found:
3 cun above the wrist crease between the tendons of palmaris longus and flexor carpi radialis.

Of many possible clinical applications, it may be considered to influence the following issues/symptoms:

Phlegm issues effecting the chest, heart, lungs a/or throat.
Heat disorders effecting the heart, chest pain, restlessness, insomina, red tongue tip.
Sudden heart pain, angina.
Wheezing with phlegm that you can feel and hear, combine with CV 22.
Distal point for enlarged thyroid.

Pc 5 has the following theoretical associations which serve as important guideposts in designing an effective treatment protocol: