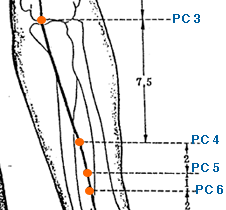 The acupuncture point "PC 4" , 郄門, is represented by "Xi Men" in pinyin and "Xi Cleft Gate" in english and may be found:
5 cun above the wrist crease between the tendons of palmaris longus and flexor carpi radialis.

Of many possible clinical applications, it may be considered to influence the following issues/symptoms:

Acute palpitations, angina.
Acute heat in the Blood, coughing or vomiting of Blood, bleeding hemorrhoids.
Spirit disorders typically due to Blood stasis, yin spirit problems, depression, fear of people, grief.

Pc 4 has the following theoretical associations which serve as important guideposts in designing an effective treatment protocol:

Explore pc 4 functional grouping theory - Xi Cleft, or read all point categories and related theory.