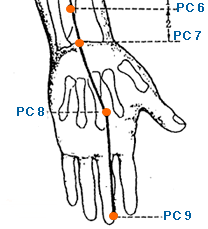 The acupuncture point "PC 8" , 勞宮, is represented by "Lao Gong" in pinyin and "Palace of Toil" in english and may be found:
At the center of the palm between the 2nd and 3rd metacarpal bones closer to the radial side of the 3rd, where the tip of the middle finger falls when a loose fist is made.

Of many possible clinical applications, it may be considered to influence the following issues/symptoms:

Excess heat conditions, more cooling than PC 7 which can be used for heat from an excess or deficient issue.
Heat in the mouth, mouth or tongue ulcers, cold sores from Heart or Stomach Fire.
Cools Ying and Blood stage heat, fevers with damage to the yin.
Cools the Blood, blood in the stool or urine, nosebleeds.
Tong Ren/Tam Healing System: Important point for qi gong healing, can increase internal energy by placing PC 8 on GV 20.

Pc 8 has the following theoretical associations which serve as important guideposts in designing an effective treatment protocol:

Explore pc 8 functional groupings theory - Entry Exit Point and/or Ghost Point, or read all point categories and related theory.