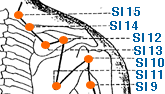 The acupuncture point "SI 10" , 臑俞, is represented by "Nao Shu" in pinyin and "Upper Arm Shu" in english and may be found:
With the arm abducted, directly above SI 9 in a depression inferior to the scapular spine.

Of many possible clinical applications, it may be considered to influence the following issues/symptoms:

Local point for shoulder and upper arm pain, swelling and/or weakness.
Wind-heat, wind-cold - chills and fever.  

Si 10 has the following theoretical associations which serve as important guideposts in designing an effective treatment protocol:

Intersection Point of the SI, Yang Wei & Yang Qiao Meridians
A single acupuncture point is not commonly thought of as an empirical way to influence a TCM diagnostic pattern. SI10, however, is a strong candidate to be incorporated into an acupuncture protocol for patients who exhibit: Lung Wind Invasion - Wind Cold and/or Lung Wind Invasion - Wind Heat
SI 10 may potentially be used, in coordination with a well designed acupuncture treatment protocol, to influence the following conditions: Arm Pain, Common Cold, Flu and/or Shoulder Pain