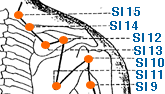 The acupuncture point "SI 9" , 肩貞, is represented by "Jian Zhen" in pinyin and "True Shoulder" in english and may be found:
1 cun above the posterior end of the axillary fold, posterior and inferior to the shoulder joint, found with the arm adducted.

Of many possible clinical applications, it may be considered to influence the following issues/symptoms:

Local point for shoulder and arm pain and/or movement/control issues.  Motor control issues of the hand.
Wind-heat invasion - chills and fever from the common cold.
Tinnitus, deafness.  
A single acupuncture point is not commonly thought of as an empirical way to influence a TCM diagnostic pattern. SI9, however, is a strong candidate to be incorporated into an acupuncture protocol for patients who exhibit: Lung Wind Invasion - Wind Heat
SI 9 may potentially be used, in coordination with a well designed acupuncture treatment protocol, to influence the following conditions: Arm Pain, Common Cold, Deafness (Hearing Loss), Parkinson's Disease (PD), Shoulder Pain and/or Tinnitus