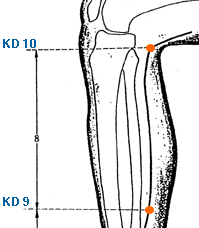 The acupuncture point "KD 9" , 築賓, is represented by "Zhubin" in pinyin and "Guest House" in english and may be found:
5 cun above KI 3 on the line drawn from KI 3 to KI 10 at the lower end of the belly of the gastrocnemius muscle.

Of many possible clinical applications, it may be considered to influence the following issues/symptoms:

Strong spirit disorders - anger, cursing, mania.
Deficient yang, cold, in the abdomen - shan disorder, hernia, pain a/or retraction of the scrotum.
Useful in a detox prescription to assist the cleansing, especially with respect to emotional outbreaks

Kd 9 has the following theoretical associations which serve as important guideposts in designing an effective treatment protocol:

Explore kd 9 functional grouping theory - Xi Cleft, or read all point categories and related theory.
A single acupuncture point is not commonly thought of as an empirical way to influence a TCM diagnostic pattern. KD9, however, is a strong candidate to be incorporated into an acupuncture protocol for patients who exhibit: Shen Disturbance
KD 9 may potentially be used, in coordination with a well designed acupuncture treatment protocol, to influence the following conditions: Anxiety, Genital Pain - Swelling, Hernia, Irritability and/or Manic Depression