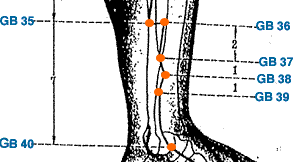 The acupuncture point "GB 36" , 外丘, is represented by "Wai Qiu" in pinyin and "Outer Hill" in english and may be found:
7 cun above the tip of the external malleolus on the anterior border of the fibula

Of many possible clinical applications, it may be considered to influence the following issues/symptoms:

Mentioned in the Bronze Man for treating rabies w/rage, fever, convulsions - moxa 3 cones after bite.
Acute cholecystitis.
Acute painful skin conditions

Gb 36 has the following theoretical associations which serve as important guideposts in designing an effective treatment protocol:

Explore gb 36 functional grouping theory - Xi Cleft, or read all point categories and related theory.