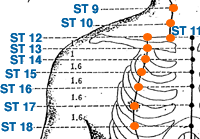 The acupuncture point "ST 11" , 氣舍, is represented by "Qishe" in pinyin and "Qi Abode" in english and may be found:
At the superior border of the clavicle between the sternal and clavicular heads of the sternocleidomastoideus muscle.

Of many possible clinical applications, it may be considered to influence the following issues/symptoms:

Local point - sore/swollen throat - counterflow qi, cough, hiccups, reflux.
Neck pain - pain, inability to turn neck.
Tong Ren/Tam Healing System: Main point to open the circulation of the common carotid artery.  Useful for conditions such as acid reflux, arteriosclerosis, hypertension, kidney cancer, bladder cancer, etc. 
Falls into the category of Window of the Sky points within the Tam Healing system.
A single acupuncture point is not commonly thought of as an empirical way to influence a TCM diagnostic pattern. ST11, however, is a strong candidate to be incorporated into an acupuncture protocol for patients who exhibit: Stomach Rebellious Qi
ST 11 may potentially be used, in coordination with a well designed acupuncture treatment protocol, to influence the following conditions: Acid Reflux Disease (GERD), Hiccups, Hypertension (High Blood Pressure), Neck Pain and/or Sore Throat