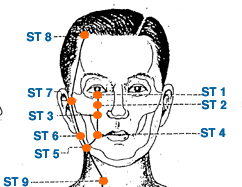 The acupuncture point "ST 4" , 地倉, is represented by "Dicang" in pinyin and "Earth Granary" in english and may be found:
Directly below the pupil, lateral to the corner of the mouth.

Of many possible clinical applications, it may be considered to influence the following issues/symptoms:

Facial pain - Bell's palsy, facial paralysis, trigeminal neuralgia, deviation of mouth from stroke, toothache.
Inability to close the eye, eye twitching, itching, night blindness.
Inability to eat.
May be helpful for atrophy and/or movement issues within the legs.

St 4 has the following theoretical associations which serve as important guideposts in designing an effective treatment protocol:

Intersection Point of the ST, LI & Yangqiao Meridians.
A single acupuncture point is not commonly thought of as an empirical way to influence a TCM diagnostic pattern. ST4, however, is a strong candidate to be incorporated into an acupuncture protocol for patients who exhibit: Liver Wind
ST 4 may potentially be used, in coordination with a well designed acupuncture treatment protocol, to influence the following conditions: Eating Disorders, Eye Problems, Facial Pain, Leg Pain, Stroke (CVA), Temporomandibular Joint Disorder (TMJ), Toothache and/or Trigeminal Neuralgia