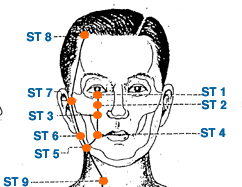 The acupuncture point "ST 7" , 下關, is represented by "Xiaguan" in pinyin and "Below the Joint" in english and may be found:
On the face, anterior to the ear, in a depression between the zygomatic arch and the mandibular notch, with mouth closed.

Of many possible clinical applications, it may be considered to influence the following issues/symptoms:

TMJ, facial pain, lower jaw toothache.
Hearing issues, deafness, tinnitus, ear pain, ear discharge/infections.
A single acupuncture point is not commonly thought of as an empirical way to influence a TCM diagnostic pattern. ST7, however, is a strong candidate to be incorporated into an acupuncture protocol for patients who exhibit: Liver Wind
ST 7 may potentially be used, in coordination with a well designed acupuncture treatment protocol, to influence the following conditions: Deafness (Hearing Loss), Facial Pain, Otitis Media, Temporomandibular Joint Disorder (TMJ), Tinnitus and/or Toothache