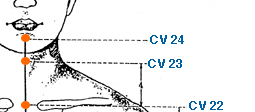 The acupuncture point "CV 24" , 承漿, is represented by "Cheng Jiang" in pinyin and "Sauce Receptacle" in english and may be found:
At the center of the mentolabial groove directly below the lip.

Of many possible clinical applications, it may be considered to influence the following issues/symptoms:

Facial pain/paralysis - Bell's palsy, stroke affecting the face, mouth and/or tongue.
Dental pain - teeth and/or gums.
Speech issues - loss of voice, hoarseness, difficulty swallowing.
Dry mouth as seen in wasting and thirsting disorders (i.e. diabetes).  

Cv 24 has the following theoretical associations which serve as important guideposts in designing an effective treatment protocol:

Intersection Point of the CV, GV, LI & ST Meridians.
Explore cv 24 functional grouping theory - Ghost Point, or read all point categories and related theory.