UB 54 Acupuncture Point Applications and Theory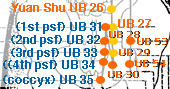 The acupuncture point "UB 54" , 秩邊, is represented by "Zhi Bian" in pinyin and "Sequential Limit" in english and may be found:
3 cun lateral to the GV line, level with the 4th PSF.

Of many possible clinical applications, it may be considered to influence the following issues/symptoms:

Sciatica especially if pain radiates along the posterior aspect of the leg.
Five Lin (Painful Urination) disorder.
While not necessarily valid clinically, UB 30 (Local point for low back, sacrum, tailbone and/or…) and UB 34 (UB 31, UB 32, UB 33 & UB 34 together form the…) are nearby.