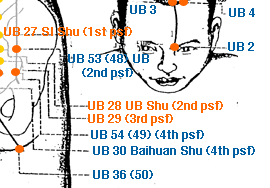 The acupuncture point "UB 34" , 下髎, is represented by "Xia Liao" in pinyin and "Lower Bone Hole" in english and may be found:
On the sarcum lateral to GV 2, level with the 4th PSF.

Of many possible clinical applications, it may be considered to influence the following issues/symptoms:

UB 31, UB 32, UB 33 & UB 34 together form the "Eight Liao" points and are all useful for local low back a/or sacrum problems and most genital and urinary related disorders. Of these UB 32 is most often used clinically.
Useful for constipation and/or pain in the lower abdomen.  Urinary difficulty.
In women, painful menstrual cycles (dysmenorrhea), leukorrhea and/or vaginal pain.
Genital pain in men.
UB 34 has some precautions to be considered (see our precautions list).
Cautions with pregnancy (PG)

UB 34 may potentially be used, in coordination with a well designed acupuncture treatment protocol, to influence the following conditions: Back Pain, Constipation, Dysmenorrhea (Menstrual Pain - Cramps), Genital Pain - Swelling, Leukorrhea and/or Urinary Disorders (Lin Disease)