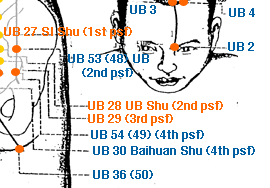 The acupuncture point "UB 35" , 會陽, is represented by "Hui Yang" in pinyin and "Meeting of Yang" in english and may be found:
.5 cun lateral to the GV line on either side of the tip of the coccyx bone.

Of many possible clinical applications, it may be considered to influence the following issues/symptoms:

Clears damp heat from the lower warmer - principle point for hemorrhoids, also vaginal disharges/leukorrhea, diarrhea.
Trauma a/or pain of the coccyx, deviation.
Potentially useful for impotence and/or swellings in the genitals or in the lower warmer area generally.
A single acupuncture point is not commonly thought of as an empirical way to influence a TCM diagnostic pattern. UB35, however, is a strong candidate to be incorporated into an acupuncture protocol for patients who exhibit: Bladder Damp Heat
UB 35 may potentially be used, in coordination with a well designed acupuncture treatment protocol, to influence the following conditions: Erectile Dysfunction (ED), Genital Pain - Swelling, Hemorrhoids, Impotence (Erectile Dysfunction) and/or Leukorrhea