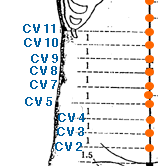 The acupuncture point "CV 5" , 石門, is represented by "Shi Men" in pinyin and "Stone Gate" in english and may be found:
3 cun above CV 2 (pubic symphysis).

Of many possible clinical applications, it may be considered to influence the following issues/symptoms:

Generally, useful for patterns of excess involving the lower abdomen a/or urinary tracts.  Not used as often as other CV points.
Mentioned classically to both cause and treat infertility, although the cause may merely be incorrect needling which is specifically mentioned.  Modern texts have largely ignored these cautions.
Useful for lower abdominal pain of an excess nature, genital pain/itching, shan disorders, hernia.
Diarrhea, undigested food in stools, poor appetite, abdominal pain, edema.  
CV 5 has some precautions to be considered (see our precautions list).
No Deep Needling (NDN)
No Perpendicular Needling (NPN) No Deep Needling in Pregnancy, No Perpendicular Needling in Advanced Pregnancy

Cv 5 has the following theoretical associations which serve as important guideposts in designing an effective treatment protocol:

Explore cv 5 functional grouping theory - MuShu, or read all point categories and related theory.