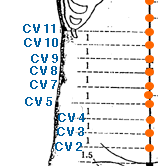 The acupuncture point "CV 6" , 氣海, is represented by "Qi Hai" in pinyin and "Sea of Qi" in english and may be found:
Midway between CV 5 and CV 7, 1.5 cun below CV 8 (umbilicus).

Of many possible clinical applications, it may be considered to influence the following issues/symptoms:

Generally, useful for Qi tonification.
Women's health - hernia, uterine bleeding, irregular menstruation, dysmenorrhea (painful menstruation / cramps), amenorrhea, leukorrhea.
Men's health - impotence, seminal emission, nighttime urinartion, hernia.
Deficiencies of the lower and middle warmers - abdominal distention, bloating, edema, poor digestion, loose stools, diarrhea, fatigue.
Tonify ST/SP Qi Deficiencies.
Main point for prolapse of any type - rectum, uterus, etc.  Lower abdominal and/or genital pain / swelling.
Stroke, loss of consciousness, weakness of the muscles and body generally.
Tong Ren/Tam Healing System: Main point for building and storing Qi (energy), useful for deficiency conditions - asthma, shortness of breath, general fatigue, etc.  
CV 6 has some precautions to be considered (see our precautions list).
No Deep Needling (NDN)
No Perpendicular Needling (NPN) No Deep Needling in Pregnancy, No Perpendicular Needling in Advanced Pregnancy