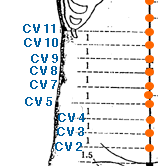 The acupuncture point "CV 9" , 水分, is represented by "Shui Fen" in pinyin and "Water Divide" in english and may be found:
1 cun above CV 8 (umbilicus).

Of many possible clinical applications, it may be considered to influence the following issues/symptoms:

Main point to move stagnation of water, especially in the middle warmer - edema, urinary issues, poor digestion, borborygmus, GERD, vomiting after eating.
Useful for tonifying the SP or KD.
Weight loss prescriptions.
Good point for Moxa.  
CV 9 has some precautions to be considered (see our precautions list).
No Perpendicular Needling (NPN) No Perpendicular Needling in Pregnancy.