GV 10 Acupuncture Point Applications and Theory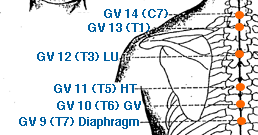 The acupuncture point "GV 10" , 霊台, is represented by "Ling Tai" in pinyin and "Spirit Tower" in english and may be found:

Of many possible clinical applications, it may be considered to influence the following issues/symptoms:

Clears Blood heat and infectious toxicity, for carbuncles, furuncles, boils, abscesses anywhere on the body but especially on the upper back, neck and face. Good point for acne.
Neck a/or back pain.
Cough, asthma.  
While not necessarily valid clinically, UB 16 (Hot a/or toxic skin conditions (esp. on the back)…) are nearby.