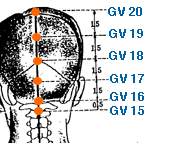 The acupuncture point "GV 18" , 強間, is represented by "Qiang Jian" in pinyin and "Unyielding Space" in english and may be found:

Of many possible clinical applications, it may be considered to influence the following issues/symptoms:

Regulates the liver and calms wind.
Stiff neck, headache.
Visual dizziness, blurring of vision.
Epilepsy, Insomnia, Manic Depression.
Tong Ren/Tam Healing System: Used to effect the autonomic nerves, balances internal organs qi, useful for fibromyalgia, chronic fatigue syndrome, hormone imbalance.