GV 21 Acupuncture Point Applications and Theory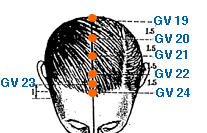 The acupuncture point "GV 21" , 前頂, is represented by "Qian Ding" in pinyin and "Before the Vertex" in english and may be found:

Of many possible clinical applications, it may be considered to influence the following issues/symptoms:

Epilepsy - acute and chronic (for children avoid needling before the fontanel has closed).
Headaches, migraines, blurry vision, pain a/or swelling along the vertex a/or face.
Tong Ren/Tam Healing System: Used to effect the motor cortex, useful for all movement issues, stroke recovery.  
While not necessarily valid clinically, UB 7 (Clear wind and resolve the exterior - important p…) are nearby.