GV 9 Acupuncture Point Applications and Theory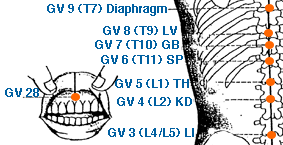 The acupuncture point "GV 9" , 至陽, is represented by "Zhi Yang" in pinyin and "Extremity of Yang" in english and may be found:

Of many possible clinical applications, it may be considered to influence the following issues/symptoms:

Important point for mid-thoracic pain, chest and flank pain radiating from the back.
Asthma, cough, difficulty speaking due to shortness of breath, opens the chest and relaxes the diaphragm, combine with UB 17 and Huatuo of T7.
Important point for LV/GB disharmony, especially involving damp heat, for hepatitis, jaundice, cholecystitis  
While not necessarily valid clinically, UB 17 (Hui-meeting Point of the Blood, useful for all Bl…) are nearby.