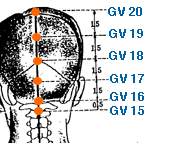 The acupuncture point "GV 19" , 後頂, is represented by "Hou Ding" in pinyin and "Behind the Vertex" in english and may be found:

Of many possible clinical applications, it may be considered to influence the following issues/symptoms:

Headaches, vertigo, dizziness, neck pain, aversion to wind.
Insomnia, psychological issues primarily with manic symptoms, epilepsy.
Tong Ren/Tam Healing System: Used to stimulate the sensory cortex (sensations from skin, muscles, and sensory organs), useful for any sensory issue, stimulation also useful for improving qi sensations within treatments, qi gong, etc.