GV 8 Acupuncture Point Applications and Theory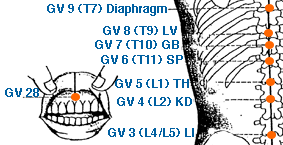 The acupuncture point "GV 8" , 筋縮, is represented by "Jin Suo" in pinyin and "Sinew Contraction" in english and may be found:

Of many possible clinical applications, it may be considered to influence the following issues/symptoms:

Reinforces Liver Back-shu (UB 18), special point for spasms in the sinews, general muscles tightness and contraction, spine stiffness, combine with GB 34, Huatuo of T9-T10, UB 18, LV 3, LV 8, LV 14.
Stress, irritability, physical heart pain, repressed anger, overly expressed anger.
Manic depression, epilepsy.
Mentioned for epigastric and cardiac pain.  
While not necessarily valid clinically, UB 18 (Main point for all Liver related conditions in TC…) are nearby.